Mr. Hải -
0923.67.88.77
Mr. Trung -
0918.627.696
Mr. Thanh -
0902.332.994
Mrs. Dung -
0903.305.434
Mr. Đạt (KT) -
0938.128.396
Đang Online: 22
Truy cập hôm nay: 0
Truy cập hôm qua: 1505
Tổng số lượt truy cập: 4354790
MR62 Ruggedized for harsh outdoor, industrial indoor, 300 Mbps, One 802.11b/g/n 2.4GHz radio, 802.3af PoE, IP67 rated. 5 years Cloud Controller Services.
Mã sản phẩm:
260
Giá bán:
25.235.000 VNĐ
(1.116,6 USD)
(Đã có VAT)
Bảo hành:
12 Tháng
Phí vận chuyển :
Thương lượng
Tình trạng:
Mới 100%
THÔNG SỐ KỸ THUẬT
MÔ TẢ
Ruggedized, outdoor cloudmanaged wireless LAN
The Meraki MR62 is an enterprise class, single-radio 802.11n cloud managed access point designed for deployments in harsh outdoor locations and industrial indoor environments. The MR62 uses advanced 802.11n technologies including MIMO and beamforming to deliver the throughput and reliable coverage required by the most demanding business applications, even in harsh environments.
MR62 and the Meraki Cloud Controller: A Powerful Combination
The MR62 is managed through the Meraki Enterprise Cloud Controller, with an intuitive browser-based interface that lets you get up and running quickly without training or certifications. Since the MR62 is self-configuring and managed over the web, it can even be deployed at a remote location without on-site IT staff.
The MR62 is monitored 24x7 from the Meraki Enterprise Cloud Controller which delivers real-time alerts if your network encounters problems. Remote diagnostics tools also enable real-time troubleshooting over the web.
The MR62's firmware is always kept up to date from the cloud. New features, bug fixes, and enhancements are delivered seamlessly over the web, so you never have to manually download software updates or worry about missing security patches.
MR62 Highlights


Ideal use cases

Harsh, rugged, and outdoor environments

Hardware features

IP67 rated, tested for dust, shock, vibration, and moisture
Single-radio 802.11n, up to 300 Mbps
Gigabit Ethernet port, 802.3af PoE compatible

Cloud management

Network-wide visibility and control
Self-provisioning for rapid deployment
Automatic reporting
Seamless firmware updates

Enterprise security

802.1X and native Active Directory integration
Intrusion detection and prevention (WIDS/WIPS)
Stateful Layer 3-7 firewall
Identity-based group policies
Built-in antivirus scan (NAC)
Teleworker VPN tunneling

Guest access

1-click secure guest access
Guest isolation firewall
Customizable splash pages

RF optimization

Cloud based RF planning
Built in spectrum analysis

Layer 7 traffic shaping

Classifies hundreds of applications
Create per-application bandwidth limits
Prioritize productivity apps
Restrict recreational traffic

Mesh

Self-configuring mesh
Extends coverage to hard-to-wire areas
Self-heals after cable or switch failures

Device management

Create device-specific firewall rules
Deploy applications and updates
Troubleshoot issues with built-in RDP
Centrally Managed from the Cloud
Meraki's award-winning Cloud Controller provides powerful and intuitive centralized management, while eliminating the cost and complexity of traditional on-site wireless controllers. Meraki provides powerful and intuitive centralized management without the cost and complexity of traditional wireless controller hardware.
Seamlessly manage campus-wide WiFi deployments and distributed multi-site networks with zero-touch AP provisioning, network-wide visibility and control, cloud-based RF optimization, seamless firmware updates and more – without training or dedicated staff.
High Capacity 802.11n for Dense Environments
Meraki APs are built on enterprise-class 802.11n chipsets, with custom designed antennas, extra CPU and memory resources, and hardware accelerated encryption. This hardware platform, combined with performance features including band steering and voice and video optimization, provides consistent, reliable performance even in crowded auditoriums with over 100 users per access point.
Built-In Enterprise Security and Guest Access
Meraki provides out of the box security that meets the needs for the Fortune 500, yet is easily configured by an IT generalist. Built-in guest access provides Internet access while protecting your LAN from viruses, worms, and unauthorized access. Active Directory integration, network segregation, and firewall rules can be configured in minutes. Advanced features include:
Application-aware (Layer 7) stateful firewall
Identity-based group policies
Intrusion detection and prevention (WIDS/WIPS)
Built-in NAC with antivirus scanning
Two factor authentication
Control Applications, Users, and Devices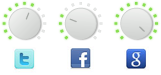 Meraki is the only wireless LAN to include layer 7 fingerprinting and application QoS. Identify hundreds of applications, from business apps to BitTorrent and YouTube. Prioritize critical apps like VoIP, and limit or block wasteful bandwidth consumption such as P2P file sharing. User fingerprinting with Google-like search allows administrators to easily identify and control individual users, iPads, Androids, and other devices.
Block Netflix, Accelerate VoIP and Secure the CEO's iPad
Meraki is designed for modern, mixed use networks that support mobile devices and web-based applications. Integrated Layer 7 device fingerprinting, traffic shaping, and application firewall services provide complete visibility and control of the devices, users, and applications on your network, while powerful yet easy to configure access policies maintain security and compliance.
Control Clients with Mobile Device Management and a Client Aware Firewall
Pushes policies and applications to the devices on your network, enforcing security best practices, installing updates, and troubleshooting client issues. Configure rich policies with a device-aware firewall, assigning bandwidth controls, VLANs, and firewall rules specifically to iPads, Androids, and other mobile clients. Meraki provides the tools for Bring Your Own Device (BYOD) networks and mobility-centric organizations.


Recommended Use Cases
Outdoor coverage for corporate campuses, educational institutions, and parks
Provide high-speed access to a large number of clients
Mesh networking
Indoor coverage for industrial areas (e.g., warehouses, manufacturing facilities)
Reliable coverage for scanner guns, security cameras, and POS devices
High speed-access for portable tablets and laptops
Long distance point-to-point
Build a long-distance bridge between two networks
Two MR62s can establish up to a 20 km link using high-gain antennas